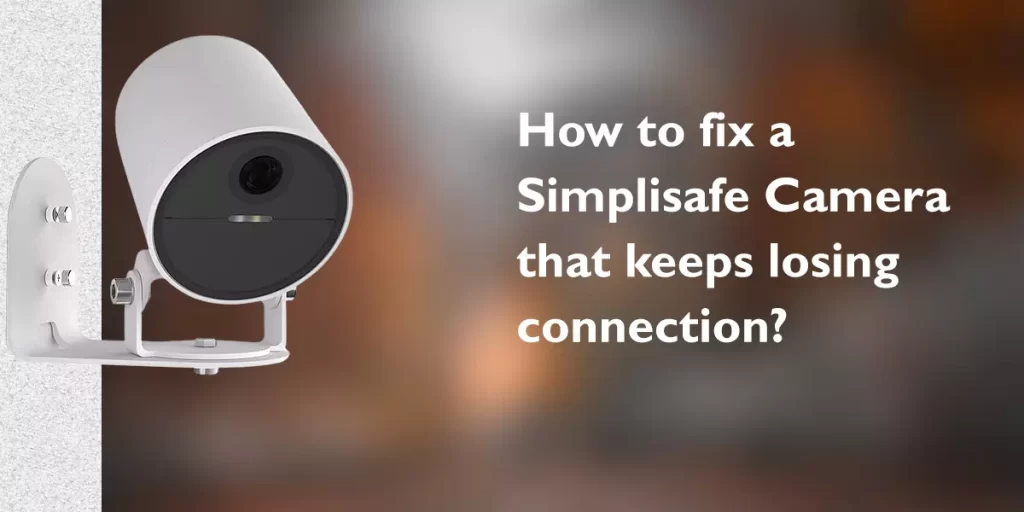 Simplisafe camera is counted among the premium options of home security cameras that we can rely on for securing a home at any time of the day. Well while setting up this immensely secure camera there are myriads of problems that the users can face and the most common one is Simplisafe camera keeps losing wifi connection. There can be varied reasons if Simplisafe keep losing the connection to wifi. It could be either power fluctuations or a poor wifi connection. Well, if this is happening with you it can be a bit hectic as each one of us wants to know what is happening on our property when we are away. Those seconds of fluctuations and disconnection can be the perfect time for some heinous crime. You don't need to fear about such situation. As our instructions and guide will let you fix your error without the help of any professional.
The first reason that your camera keeps losing wifi connection is a weak internet signal and one of the best ways to resolve this error is to keep your camera close to the Wi-Fi router. If this is not possible in any case then hardwiring your SimpliSafe camera to the wifi router by using the Power over Ethernet can also help to enhance the signal and strengthen the network.
The second reason can be that your device is not in line with filling all the requirements of the setup process. That might have happened because of the wrong setting of your device.
Third and the major reason that might be the cause of this issue can be the low bandwidth. Using Speedtest and up-grading your bandwidth can be an appropriate solution. Besides, installing the bandwidth monitoring tool will help you to keep an eye on the traffic and the range of bandwidth.
Best methods to fix the SimpliSafe Camera that disconnects.
When your Simplisfae camera disconnects again and again then this issue is directly related to the WiFi connectivity or the power of the device. Now in this case you can quickly resolve the error by resetting your device and then again connecting it to the wifi network. In a number of cases, the disconnectivity and camera offline problems occur due to the power fluctuation while in others it's either a hardware problem that makes your SimpliSafe camera go offline or the Wifi connectivity issue.
How can I reconnect my Simplisafe Camera?
Well, these are the given steps on how to reconnect your Simplisafe Camera:
Be sure that before reconnecting your SimpliSafe camera is flashing the white light.
Now on your SimpliSafe app, click on the three-bar menu icon and choose your camera.
Hereafter, choose your WiFi network and enter the password you have set or your WiFi.
Now you have to just click on "Get your code" and scan the code by using your camera.
Hence this will successfully reconnect your device to the camera.
Conclusion
A poor internet connection and low bandwidth can be the major issues that might be playing a vital role in a poor connection. but following these instructions, you can simply fix your issues within no time. Further, if you need any assistance feel free to contact us at any time of the day.